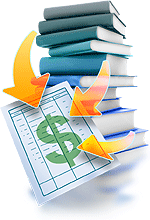 Yes, it is called the Custom Sales Report and it is available to order in your Author's Center.

By initiating an ISBN-specific search process with Ingram, we can ascertain wholesale book sales information for any 90 day period of time, up to and including yesterday. This manual process also includes a more robust break-down of sales by specific channels, including Amazon, Ingram, Barnes & Noble, Baker & Taylor, and any other channels you have available.

Due to the time-consuming, manual nature of this sales reporting, there is a nominal fee for this custom sales report, and it takes a few days to acquire the information.